The Power of Faster Payments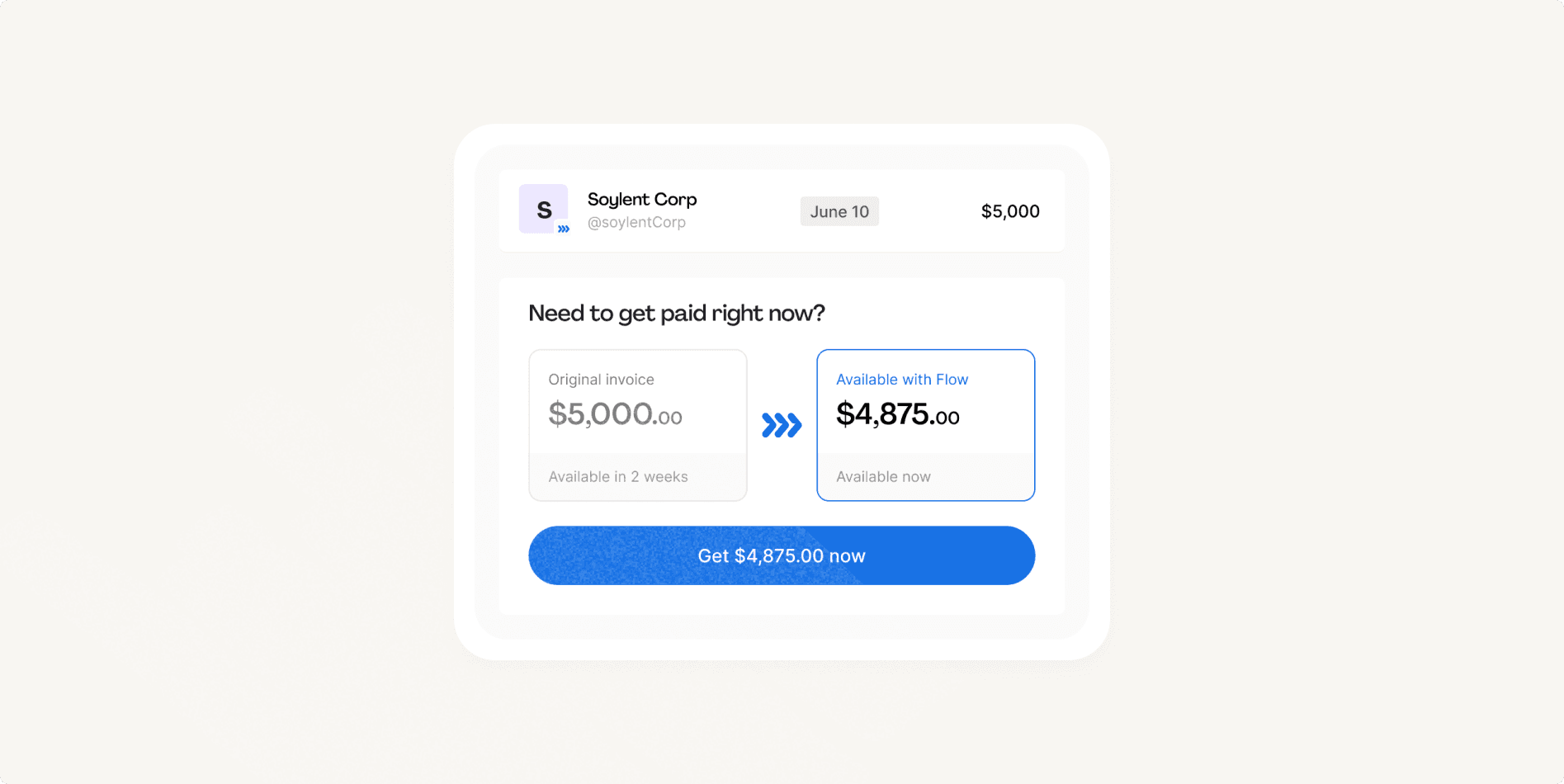 Late payments and overdue invoices cause problems whether you're bootstrapping a startup, scaling a small business, or hustling as a freelancer. Waiting for money to hit your account disrupts your cash flow, undermines your ability to invest working capital in other parts of your business, and makes it difficult to cover your expenses.
But what if outstanding payments weren't standing in your way? What would you do with that money if you could snap your fingers and have it instantly? Hopscotch Flow helps business owners do just that—leverage funds from unpaid invoices with the click of a button. Here's why you should consider growing your business with faster payments.
Fast payments create flexibility
Waiting to get paid sucks—especially for freelancers and contractors who face unique financial challenges due to the nature of their work.
Late payments have outsized impact
Freelancers and contractors are all too familiar with unpredictable income. Some might even argue that it's just the cost of doing business. In exchange for more flexibility and freedom in their work style, freelancers incur a few additional risks. Clients aren't always reliable, payments aren't always consistent. But these uncertainties can have big consequences—what if a company doesn't pay on time? Will you have to dip into other savings to cover monthly expenses like utilities, rent, food? Hopscotch Flow gives you the power to instantly unlock funds that are tied up in unpaid invoices and creates a much-needed safety net for the independent workforce.
Stop sending invoice reminders 
On average, full-time freelancers manage about 6 different clients. Keeping track of what's coming in, what's been paid, and what you need to follow up about, can easily become a full-time job! On top of that, chasing down payments can cause friction in your professional relationships. Rather than sending awkward reminder emails and potentially jeopardizing an ongoing client relationship, Hopscotch Flow handles the entire collection process discreetly and protects your privacy. The payor won't be notified at any point in the process, and you can get paid on your own terms.
Bottom line: It's your money, access it instantly whenever you need to. With Hopscotch Flow, you can avoid gaps in cash flow, stay flexible, and make better in-the-moment decisions for yourself and your business.
Capital creates growth
Having to chase down a critical payment is time-consuming and disruptive to cash flow, especially for businesses with small teams and limited resources.
Time is money 
Even if you can afford to wait for long payment terms to clear (net 60, net 90…we're looking at you!) it's not always ideal from an operational perspective. This is especially true for startups in a growth mindset. If your goal is to scale quickly, having money tied up in an unpaid invoice is a waste of time. Growth requires capital, but being stuck in invoice limbo can put you on the back foot. With Hopscotch Flow, you can get the capital to pay bills on time, invest in equipment, or replenish inventory.
Bottom line: When you're waiting for an invoice to get paid, you're missing out on opportunities. Hopscotch helps you control your funds with a higher level of sophistication and infuse money into other parts of your business so you can grow strategically rather than dilute your ownership in exchange for capital.
Cash flow without the debt
Many small businesses are forced to take on additional debt as they grow, which can damage cash flow. Hopscotch Flow makes it possible to leverage invoices and infuse cash into your business without going into debt or affecting your credit.
Skip the underwriting process
Hopscotch Flow is not a loan. There's no extended underwriting or complex auditing process (which can take up to 3 weeks and require extensive documentation with traditional lending avenues.) On top of that, loan costs for small businesses are typically higher due to the perceived risk by the lender. They typically have less competitive interest rates and strict repayment terms. With Hopscotch, you pay a dynamic rate and get instant access to your capital.
Never worry about making payroll
Waiting to collect payment on critical invoices can disrupt the flow of money into and out of your business. If you're dealing with a significant backlog of receivables, it can have devastating consequences—such as not being able to meet payroll. Hopscotch Flow gives you quick access to capital in financial emergencies.
Why leverage your invoices this way?
Privacy guaranteed 
Hopscotch Flow is a discreet financial tool. This product places the power of financial security squarely in the hands of the payee, with zero risk of damaging professional relationships or appearances.  The payor won't be notified at any point in the process, and you can get paid on your own terms.
No credit check
Hopscotch Flow doesn't require a credit check, so your credit won't get dinged if you choose to unlock payment. Avoid the high fees and strict repayment terms that come with traditional business loans.
Instant funding
This is the closest that money gets to growing on trees. Hopscotch Flow gives you instant access to capital so you can make payroll, reinvest in your business, or cover other critical expenses.
How Hopscotch Flow works
Send an invoice on the Hopscotch platform with just a few clicks.
Our underwriting model leverages platform data to determine if the invoice is qualified for financing.
When you choose to finance an invoice, you're presented with a customized rate for your business.
After you confirm your decision, the funds are added to your Hopscotch balance.
When your client pays, Hopscotch automatically collects the invoice amount plus a fee.
Stuck in invoice limbo?
Hopscotch can help you tap unpaid funds instantly—never be a day late or a dollar short again. Create an account today and be the first to know when Hopscotch Flow launches.