Six Tips for Writing Effective Overdue Invoice Letters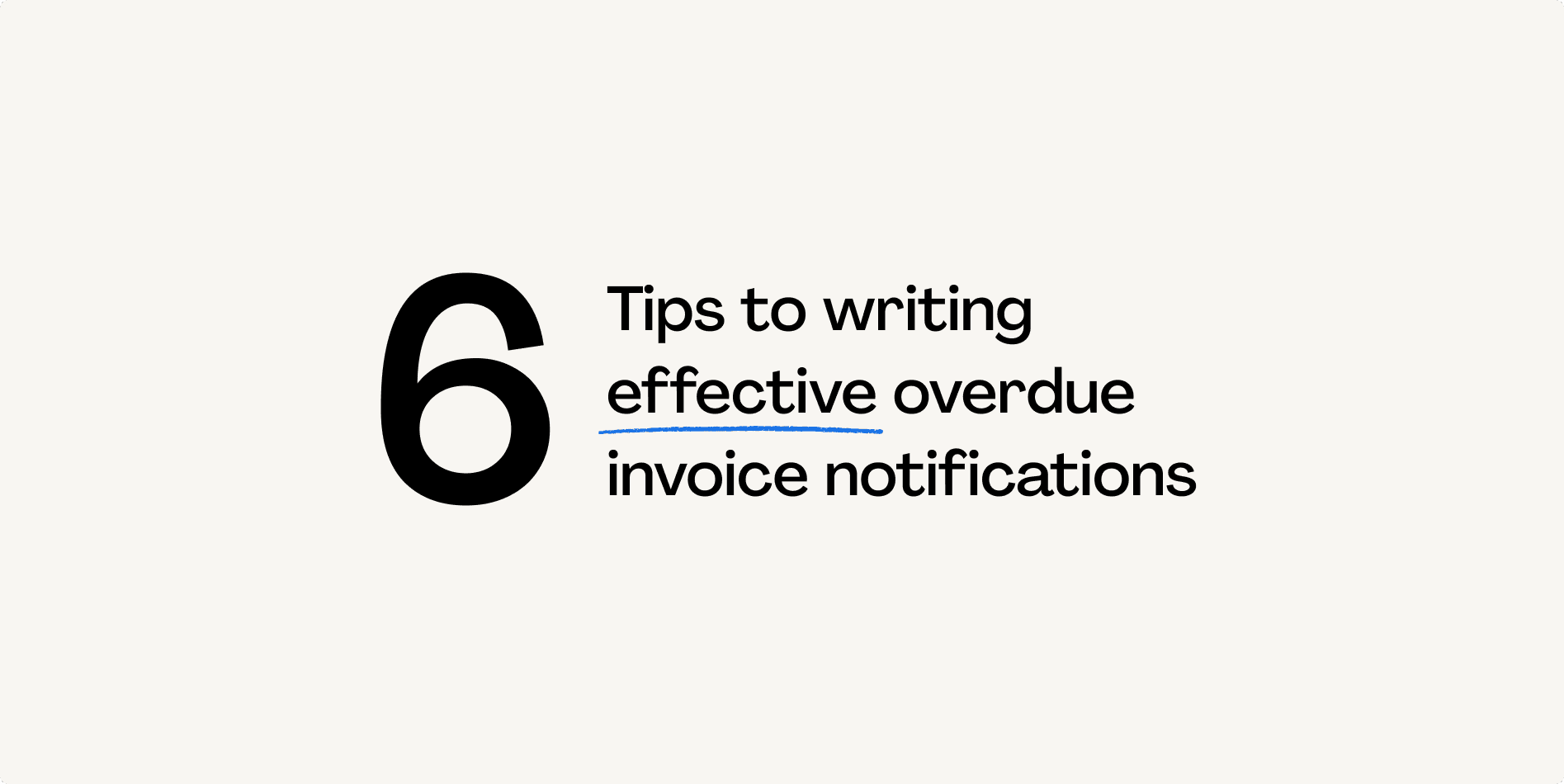 What You'll Learn
How sending a past due invoice letter can help you get paid
When you should notify your client about a past due invoice
What details to include in a past due invoice letter
Getting paid on time is critical for any business. Outstanding invoices can cause tension between you and clients, create cash flow issues, and prevent your business from scaling successfully. That's why your payment process should include a contingency plan for past-due invoices. By using tactful language and clear communication methods, you can remind your clients to pay without causing friction.
Check out the following overdue invoice letter templates to get started.
What is a Past Due Notice?
A past-due notice is a letter that you send to a client when their payment is late. You may also hear it referred to as an overdue or late payment letter. Whatever you call it, this notice typically needs to include a few key pieces of information including the amount of the invoice owed, the date the invoice was originally due, and any late fees incurred by their delay.
The goal of this notice is to remind your clients of their contractual payment obligations without sounding overly demanding or aggressive.
There are several ways to send a past-due notice. You can include it as part of your invoice or send it as a separate letter. You can also send it via email, regular mail, or even text message. The important thing is that you choose a method of communication that will work best for your client and succinctly deliver your message.
This notice should set expectations for future transactions with your clients. By being proactive in sending these notices, you can hopefully avoid future misunderstandings.
How to Write a Past Due Invoice Letter
When writing a past-due notice, it helps to be clear and concise. This isn't the time to beat around the bush or use flowery language. Get straight to the point so your client knows exactly what they need to do. Here are a few other tips to get you started:
Provide all the details
Be brief but polite
Tailor the language
Be flexible with payment options
Suggest a schedule
Set clear expectations
Provide all the details
Include all of the relevant information in your letter.  This information includes:
Original invoice due date
Total cost of any late fee
It's important to be as specific as possible so your client knows exactly what they owe. It probably doesn't hurt to include the original invoice with your letter as well.
Be brief but polite
Keep your past due notice short and sweet. You want to get straight to the point without sounding harsh. Politely thank your clients for their business, but firmly remind them of their outstanding balance.
Tailor the language
Tailor your language to fit your relationship with the client. If you've worked together for a long time, you can be more understanding in your language. However, if this is a new client, it might make more sense to use somewhat formal language.
Be flexible with payment options
It's possible that the client is ready to pay, but they're not sure how to. Perhaps they're used to paying cash and didn't realize that you have an online payment portal.
Alternatively, your client may not be able to pay the full amount right away. If that's the case, discuss payment options and come up with a plan that works for you both. Being flexible makes it more likely that you'll get paid.
Suggest a schedule
If your client is having trouble paying you, set up a payment schedule. This will help them stay on track and ensure they don't fall behind again. Include the due dates for each installment in your next past-due notice.
You can also enforce consistency by sending regular payment reminders. Typical reminder rates would be every 15, 60, or 90 days.
Set clear expectations
Make it clear what will happen if your client doesn't pay their outstanding balance. Will you charge additional fees? Will you take legal action? Outline a plan and communicate the potential impact to your client.
You don't need to lay out every consequence in your initial past-due letter, but be sure to include this information in subsequent notices if payment is still outstanding.
Past Due Invoice & Letter Samples
You can probably draft an effective past due invoice letter with those tips but if you're still not sure where to start, we've included some examples to get you started.
Here's an example of a professional past-due letter:
"Dear Mrs. Rodgriguez,
I hope this letter finds you well! 
I'm writing to remind you that payment for Invoice #126 is past due. The total amount due is $350. This invoice was due on 07/01/2022.
You can render payment online at mypayments.com.
Thank you for your business and continued partnership. I look forward to hearing from you soon.
All the best, 
Beth Ann Smith 
Regional Director at the Best Company 
7777 West Company LN
Las Vegas, NV, 89147"
Templates for Past Due Notice Letters
The example in the previous section might make sense for your first letter to the client, but the content needs to change as you send additional notices. Remember, tailor your past-due letter to the occasion.
Below you'll find templates for the following:
Initial reminder (1-15 days past due)
Second reminder (30-60 days past due
Final notice (90+ days past due)
You can use the following past due notice templates as-is or tweak them to better fit your needs.
Initial Reminder (Sent 1- 15 days after the invoice is past due)
The initial letter should be friendly and non-accusatory. Mistakes happen, and it's possible the client doesn't know that you're waiting for payment.
Hello [Client Name],
Hope this note finds you well! I'm writing to remind you that invoice #[X] is 8 days overdue. The total amount owed is $$.
Please send a check or money order to the address listed below or pay online at mybusiness.com.
I appreciate your business and look forward to working together again soon!
Thanks, 
[Your Name]
Second Reminder (Sent 30-60 days after the invoice is past due)
It's time to take a firmer tone with your second letter.
Hello [Client Name],
This email is to remind you that Invoice #[123456], originally due on [X date], is now 45 days past due.
To date, I haven't received payment or an update from you regarding this matter. If payment is not received within 5 days, a 10% late fee charge will be incurred. 
Please let me know if there are any issues on your end.  I'm open to setting up a payment plan if that will help resolve the issue. 
Sincerely,
[Your Name]
Final Notice (Sent 90+ days after the invoice is past due)
Your final notice should use your most direct language. Don't be rude, but make it clear that there are consequences to ignoring the invoice.
Hello [Client Name],
Getting in touch with an urgent message regarding Invoice #[123456], originally due on [X date]. The invoice is now X days overdue, and payment is required immediately. 
Please send a check or money order to the address listed below. You can also pay online at mybusiness.com. Be advised that additional late fee charges will be levied every day until payment is complete. Full details about these charges can be reviewed in our contract. 
If payment is not received within X days, I'll be forced to take legal action. 
Please contact me as soon as possible if you have questions. 
Sincerely
[Your Name] 
Dealing with non-paying clients isn't easy, but sending timely and professional past-due notices can help you preserve relationships, get paid, and leave a written record of your attempted communications.
Looking for an easier way to get paid? Sign up today to experience instant, fee-free payments on Hopscotch.