Customer Story
Digital agency avoids big transaction fees, keeps clients happy with Hopscotch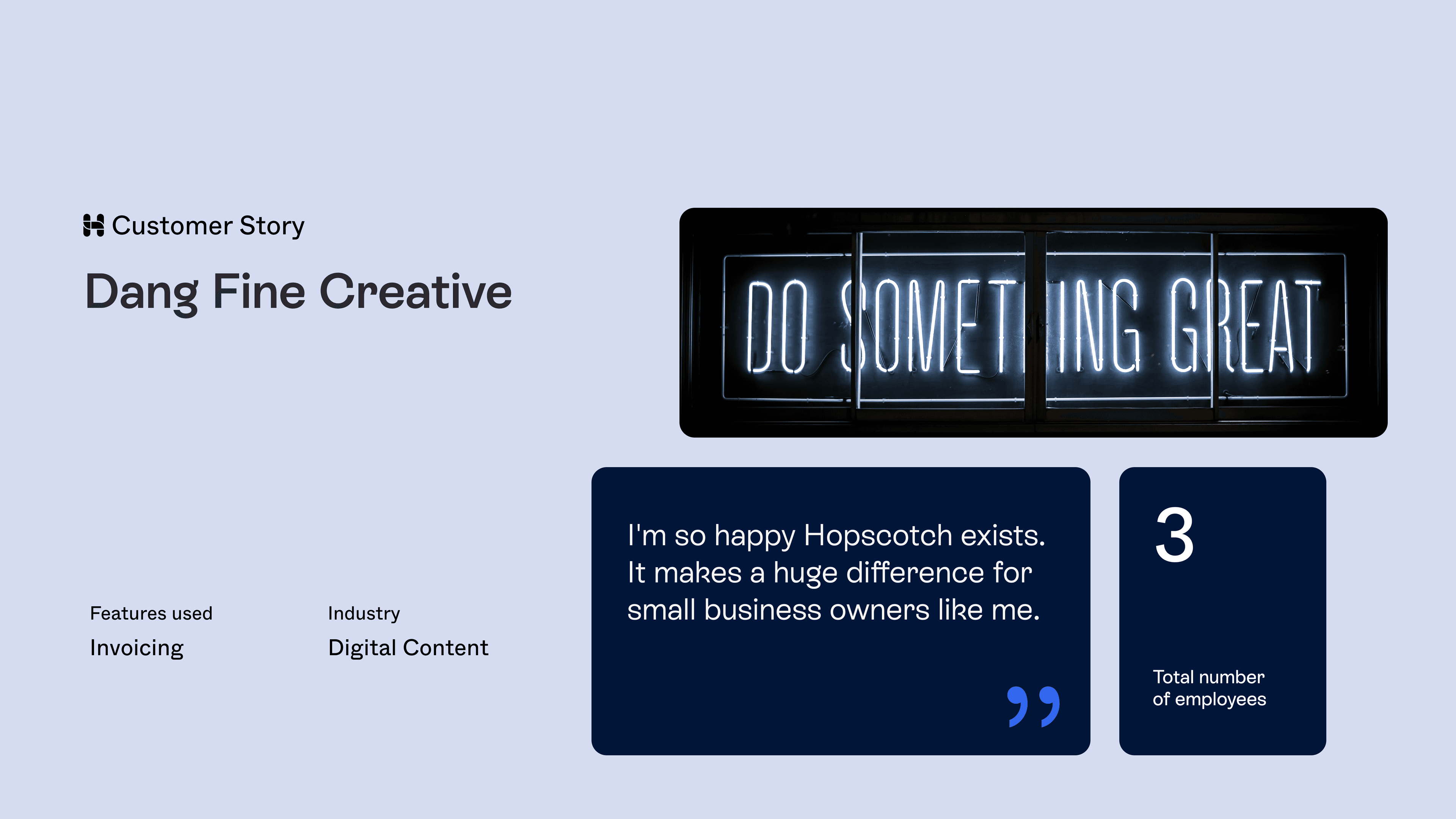 $200
Minimum monthly savings with Hopscotch
100%
Satisfaction from clients paying through the platform
Company
Dang Fine Creative
Digital agency avoids big transaction fees, keeps clients happy with Hopscotch
About Dang Fine Creative
Dang Fine Creative is a digital content agency serving up thoughtfully curated ideas and innovations for brands who are down to be bold. They help clients cultivate an online presence that not only dazzles upon delivery but converts into real, long-term success. How? Clever social media strategies and content, bespoke copywriting, content + email marketing, and a million other little "wow, that's creative"-worthy ideas.
The Problem
Earlier this year, Dang Fine Creative was using Wave, PayPal, and Venmo to get paid and it was bad for business. High transaction fees were diminishing their revenue.
"It had become a big factor in our pricing strategy, we had to make sure we were covered and earning our full rates after fees," says founder—and de facto accountant—Sarah Lempa.
On top of that, they were dealing with late payments way too often (sometimes several times a month) and having to send multiple invoice reminders. Late payments can lead to gaps in cash flow and create major headaches for small businesses.
Hello Hopscotch!
Dang Fine Creative started looking for a payments solution that was easy, simple, and cost-effective.
Dang Fine Creative saves thousands in fees and impresses clients with Hopscotch
Inefficient processes hurt small businesses. Time-consuming and expensive invoicing creates operational drag month over month.
Hopscotch helps alleviate this burden so small teams can focus on client work.
"Hopscotch is saving us time in our daily processes and money in our operating costs. I'm so happy this platform exists. It makes a huge difference for small business owners like me."