Customer Story
Music marketing agency saving thousands with zero-fee payments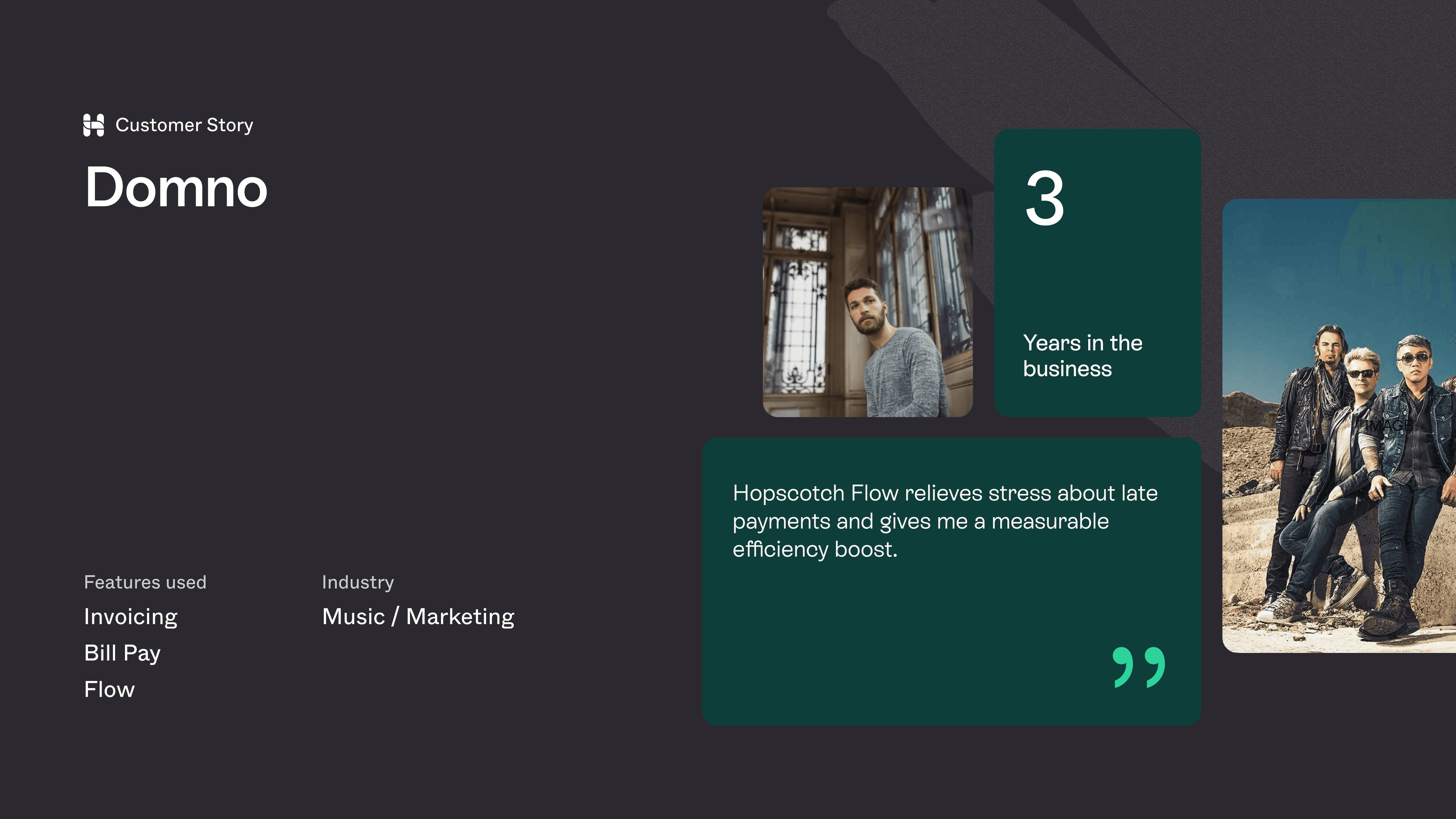 $500
Money saved so far, which can go towards a subscription or software.
270 min
Time saved in 2022. Enough to listen to 90 artist demos!
Industry
Music / Marketing
Industry
Bill Pay
Invoicing
Flow
Music marketing agency saving thousands with zero-fee payments
About Domno
Domno is a marketing service provider founded by Jacob Seeger.
He's the only employee ("it's pretty much a one-man show!") and he's passionate about his clients. The company has worked with artists from Journey to Weezer, but mostly focuses on supporting smaller artists (who often get neglected by major labels) without breaking budgets. Voila-the Domno effect.
I started Domno out of frustration over the current marketing solutions for artists.
The Problem
In 2020, the payment process at Domno was causing problems.
At the time, they used Paypal and Stripe to invoice clients. This was a time-consuming process and they lost revenue with fees every time they got paid.
Worst of all? When clients paid late (which happens sometimes) Domno was stuck waiting-sometimes for months. They didn't want to damage relationships, but needed better cash flow to run the business.
Some of my clients have become close friends of mine. I don't want to harass or text them about money.
Hello Hopscotch
Domno started looking for a better payment process. They found Hopscotch by word-of-mouth and signed up as a beta user.
It was an immediate 'let's do this'. Hopscotch helps me run my business because I don't have to think about it. It relieves the mental load.
Jacob Seeger
Founder & CEO
How Domno is saving thousands with zero-fee payments on Hopscotch
Transaction fees can take a big bite out of the bottom line. By providing fee-free payment options, Hopscotch helps small businesses fortify their income and scale strategically. At Domno, this means investing in automations and focusing more energy on revenue-generating activity rather than administrative financial tasks.