Customer Story
Consulting agency on track to save 100+ hours annually with Hopscotch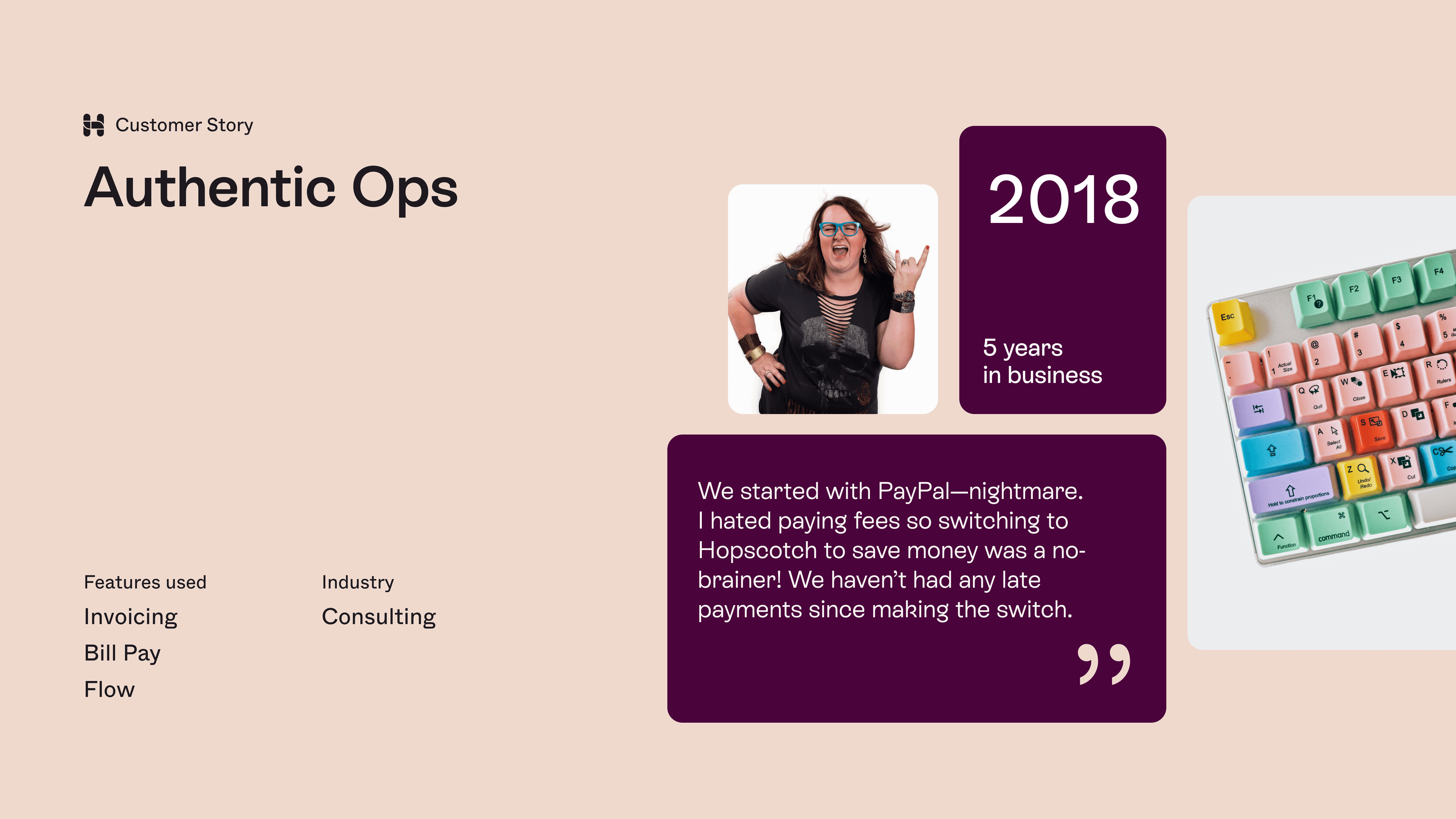 100%
Rate of on-time pavments from clients in the first month using Hopscotch.
100+
Estimated hours saved annuallv based on 2hrs/wk improved efficiency rate.
$1300
Cashflow unlocked in the first half of the month to cover an unexpected cost.
Industry
Bill Pay
Invoicing
Flow
Consulting agency on track to save 100+ hours annually with Hopscotch
About Authentic Ops
When you're trying to scale a business, it's easy to get bogged down in admin. Authentic Ops is the one-stop-shop operational consulting agency helping entrepreneurs spend less time running in circles and more time moving the needle on big picture goals.
Founded and led by Emily Britton-Arnold ("Operations are my jam!") this one-person team works with busy CEOs, founders, and small business owners to develop and execute bespoke operational strategies. She contracts with other specialists to provide customized support and build unique systems depending on the needs of her clients.
The Problem
Late-paying clients were putting Authentic Ops in a tight spot. In addition to creating a cashflow bottleneck, outstanding payments required extra manual work. Emily was following up about unpaid invoices at least once per month.
"Without fail there's always that one client that I have to chase for payment. Clearly there are better things I could be doing with my time!"
This meant her business was losing money-in more ways than one.
Chasing payments ate up valuable hours when Emily could have been doing billable work. On top of dealing with a time-consuming process, she was also paying transaction fees.
Hello Hopscotch!
Authentic Ops started looking for a better payment process and signed up for Hopscotch.
Authentic Ops wins back 100+ hours with easy invoicing and on-time payments
Managing invoicing and bill pay in one platform creates operational efficiencies for AuthenticOps. On top of saving time and money every week, Emily can be sure that the experience for her clients and contractors is intuitive and straightforward. "My clients have said Hopscotch is simpler to use with fewer steps for them to pay the invoices."